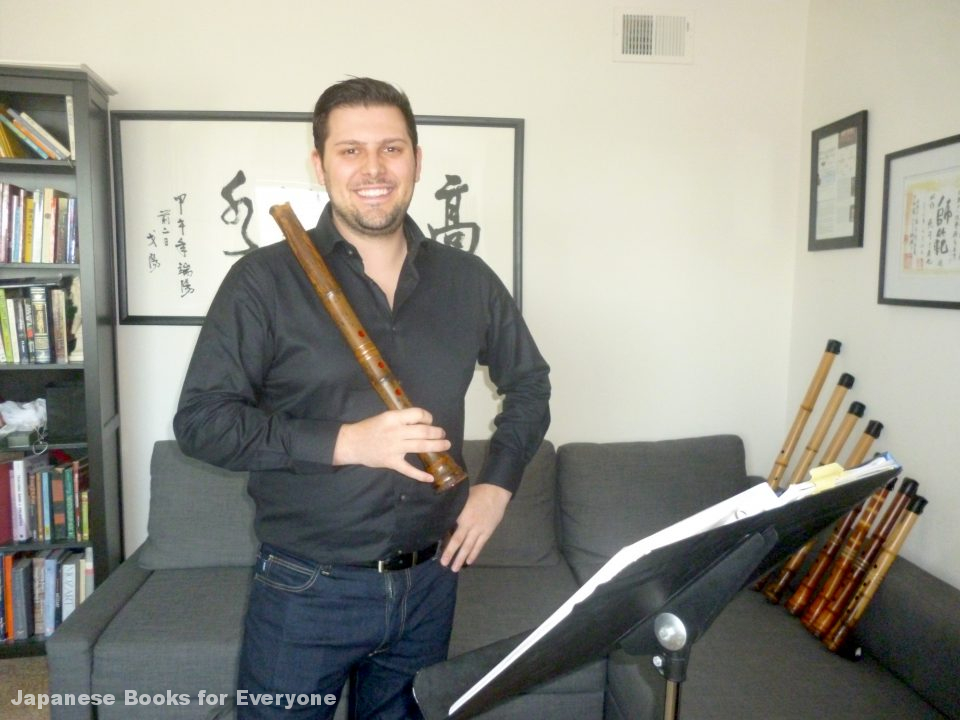 My Japanese Books
An American Shakuhachi Player & the Colors of Kyoto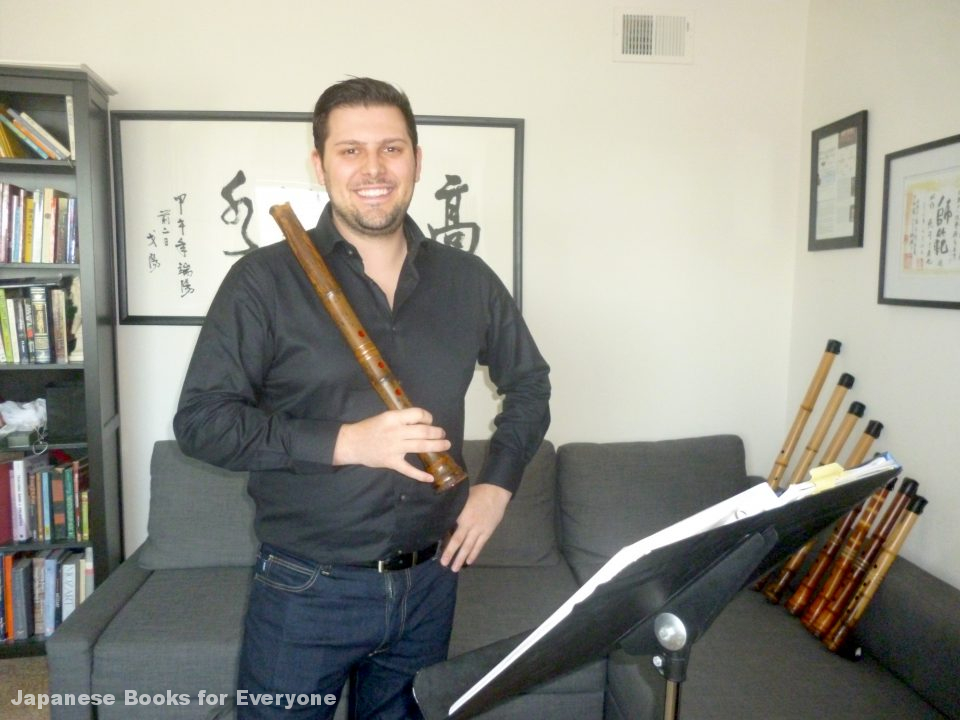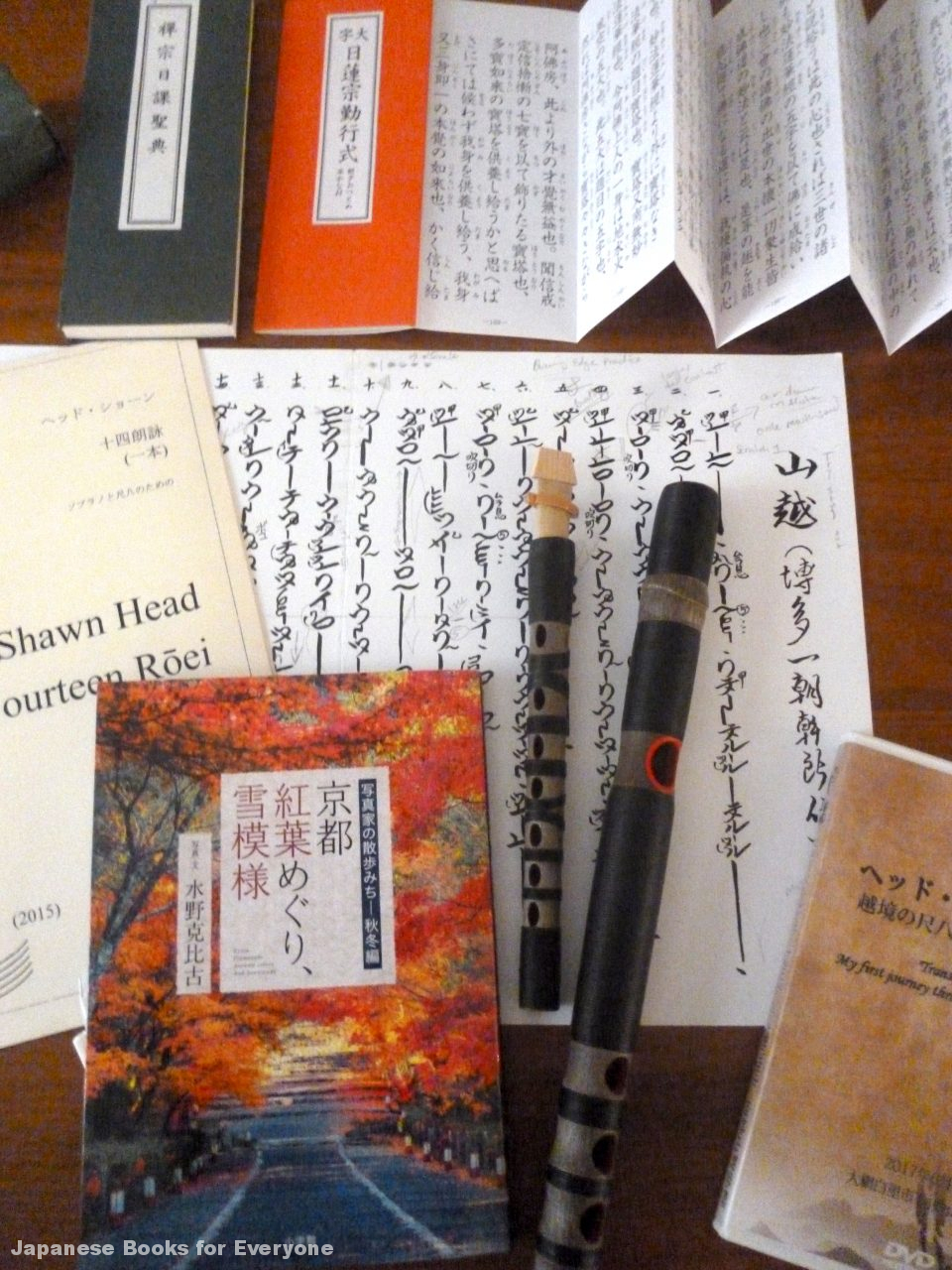 Just how did a young American find himself in the world of the traditional Japanese flute, one might ask? Shawn, a once promising violinist, was forced to give up his dreams due to injury, yet during a visit to China at nineteen, fell in love with a woodwind instrument known in Japan as the shakuhachi. "The shakuhachi produced a note that made the air tremble, yet didn't make a sound," Shawn explains. "The perfectly clear and forceful tone was absolutely beautiful."
Shawn's talent for the instrument soon bloomed. He came to perform on stages across the globe and has since made six visits to Japan. Shawn's music has been praised as having "a deeply felt Japanese sentiment structured with a virtuosic western filigree," and has been widely performed by such ensembles as the Milwaukee Symphony Orchestra and the Cleveland Orchestra.
Shawn has been enthralled with traditional Japanese culture since the age of five. "Those thin and thick, curving and precise lines... I was fascinated with their beauty and mystery," he recalls. From the very first time Shawn laid his eyes on written Japanese, a strong curiosity for the language was born. He began delving into the culture with martial arts training and later came to study the language so that he might better understand the culture, traditional arts, and history of Japan. Today, Shawn's self-taught speaking and reading abilities are incredible.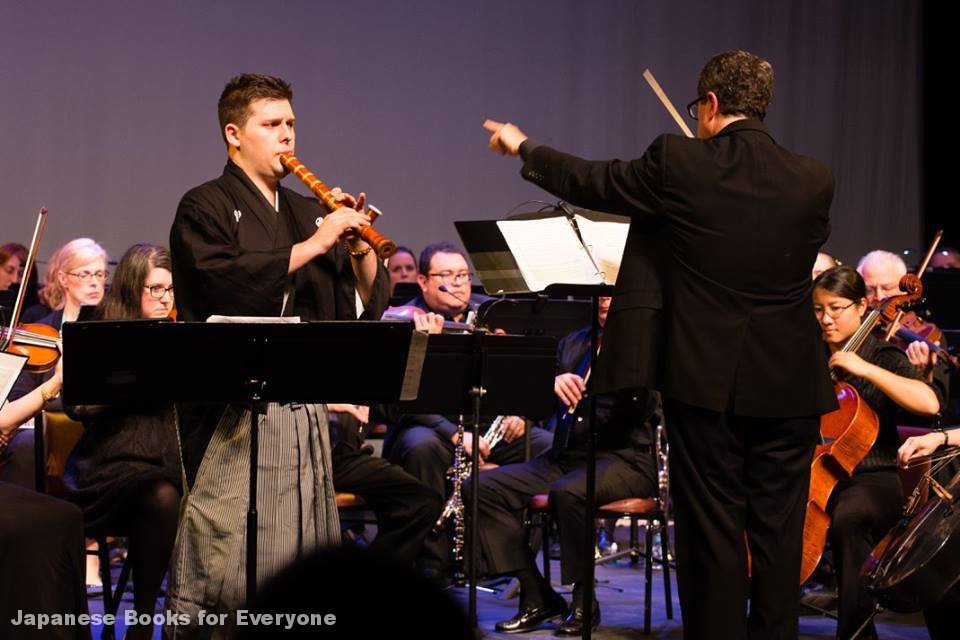 What draws Shawn to traditional Japan are the ancient aesthetic concepts of yugen (a profound and mysterious sense of subtlety), iki (an expression of simple spontaneity), and mono no aware (the transience of things). "I love traditional Japanese poetry, which is full of these sentiments, and I often reference such poems in my own compositions," he explains. Many of Shawn's works bring to life the vivid charm of the seasons—autumn colors, dawn, the end of spring. "When I envision a song, I like to think of fall," he says. "Winter is white and its sound is monotone, so it's not very interesting. But the tints of Autumn—the warm reds and yellows, the colors of gold and chestnut—decorate the natural world. It's easy to create sound from that."
Shawn holds in his hand a book with a beautifully captivating cover of colorful leaves, Kyoto: Autumn Leaves & Signs of Snow. "Every time I turn the page, I say "wow," "amazing!" "how beautiful!" because the scenery is so unbelievably gorgeous. The photos of trees steeped in crimson and carpets of yellow gingko leaves on the grounds of the Kamigoryo Shinto Shrine are burned into my memory. I haven't yet been to Kyoto, but reading this book welled-up a strong desire to write some music based on Kyoto and to go there to perform."
Passport to Kyoto's most magnificent scenery
If one loves nature—and who doesn't—you must get your hands on this book! The autumn imagery in this book is stunning, and the beauty of temple grounds covered in gorgeous colors is breathtaking. The language in the book is also colorful and matches the intensity of the photos. Even though I have a career devoted to traditional Japanese culture, there are still things I can learn from this book, like about Kyoto's ancient Inoko Festival at the Go-o Shrine. The scenery and rituals are so intoxicating, it felt I'd been completely drawn into that world.



(Shawn Renzoh Head)
Reported by Rika Grant. Translated by Devon Menuez.