Hajimete zukan 415 with English text Full of Photos!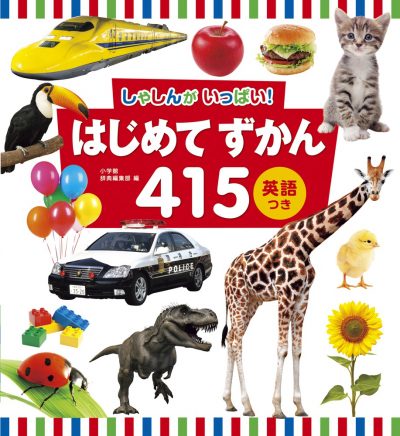 Product details
Language: Japanese and English
ISBN-10: 4092535791
ISBN-13: 9784092535794
Pages: 40
Printing: Color
Dimensions: 193mm × 176mm × 21mm
Weight: 550g
Issue Data: 2017/2/22
Publisher: Shogakukan
A fun way to teach kids the names of their favorite things—in both Japanese and English!
Animals, birds, bugs, flowers, food, cars, trains, dinosaurs, and more—the 415 photographs in this bilingual book introduce all sorts of fascinating things. With text in English and Japanese, and an emphasis on words that appear in children's songs and stories, this book is a great way for kids to learn vocabulary in both languages. Young readers can hear the English and Japanese pronunciations of every word via smartphone or computer.
Product details
Language: Japanese and English
ISBN-10: 4092535791
ISBN-13: 9784092535794
Pages: 40
Printing: Color
Dimensions: 193mm × 176mm × 21mm
Weight: 550g
Issue Data: 2017/2/22
Publisher: Shogakukan